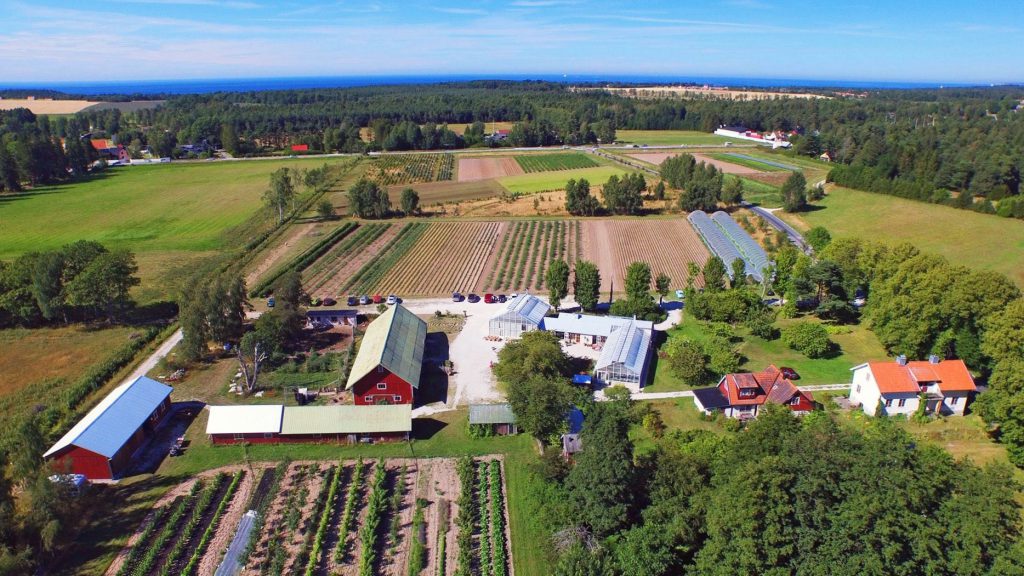 Farm
A rather small mountain
Lilla Bjers is a green, fully organic oasis located in Västerhejde on Gotland, 7km south of Visby. The farm is a place of historic essence, and the restaurant is a place filled with flavors from the earth. Bjers is an old Gotlandic word for mountain.
With reverence people throughout history have lived and farmed the soil here. Proof that Lilla Bjers has been a place of cooking and eating food lies in the 2500 year old cooking pit that has been found here. Crops of high cultural significance such as saffron, garlic and wild forrest garlic were brought here during the Iron Ages. Crops such as emmer wheat and einkorn have been farmed here since even before the introduction of the cultural crops mentioned before, and to this day we still grow emmer wheat.
By working with the soil, the crops and the biosphere we are in with love and respect we strive to not only create a legacy but the survival of the farm itself in the long run in a sustainable matter.
We grow a variety of organic crops on open fields, and some crops that require more controlled temperatures, such as tomatoes, melons, ginger, are grown in tunnels the provide more heat. All of our crops are available to purchase in our shop, which is open all year. In the restaurant we serve our crops, cooked with the highest level of love and thought, and paired with amazing wines or alcoholic free beverages.
On the farm we have about 50 hens and chickens that help take care of the waste after the restaurant has prepared the vegetables for service.
Our latest addition is a snail farm in a greenhouse. Food for the future with a historic legacy. We also have bee colonies for pollination and honey.
Awards
"100% cirkulärt"- White Guide
"Pluto Johannissons Honorary Memory Award 2022" -Sandahl Foundation
"Best organic restaurant in EU 2022"
- EU Organic Awards, EESC
"Farmer of the year in Fruits and Greens 2020" - Farmer of the Year
"Lighthouse 2019"
- 360°Eatguide
"HEB award 2019"
- Visita
"Diploma 2018"
- Gastronomic Academy
"Organic producer of the year 2018"
- Gotlandic Organic Farmers
"Top restaurant in Sweden 2018"
- Bookatable Diner Award
"Top organic kitchen 2018"
- Bookatable Diner Award
"Sustainable gastronomy of the year 2014, 2015 and 2016"
- White Guide
"Local Eat Award 2014"
- EAT Forum
"Stainable kitchen of the year 2013"
- RS
"Top gourmet restaurant of the year 2012"
- Organic League
Nominations:
"Environmental goal award in endurance and long-term 2020"
- The Swedish Environmental Protection Agency
"Innovativ organic farmer of the year 2020" - Farmer of the year
A sandbox of 19 hectares
• Grazing ground ca 10 hm
• Asparagus 1,25 hm
• Potatoes 0,5 hm
• Strawberries 0,4 hm
• Grains (emmerwheat) 1 hm
• Vegetables ca 1 hm
• Fallow ca 1 hm
• Perennials 0,5 hm
• Vineyard 750 stocks
• Fruit orchard 550 trees
• Christmas trees 2 hm
• 3 Cultivation tunnels
• 50 sq Snailfarm
• Chickenfarm, 50 chickens
• 9000 sq Irrigation dam
• Forrest 50hm • 15 beehives
The entirety of the farm and its produce are KRAV-certified
Since 2001 the crops have been certified along the highest levels of KRAV rules and regulations, controlled by HS-certification. SE-EKO-04
In 2009 our Christmas tree farming became the first in Sweden to be KRAV-certified.
Our KRAV-certification also applies to the:
• Restaurant (highest level)
• Shop
• Preservation of vegetables
• Green house
• Animal keeping

hepp