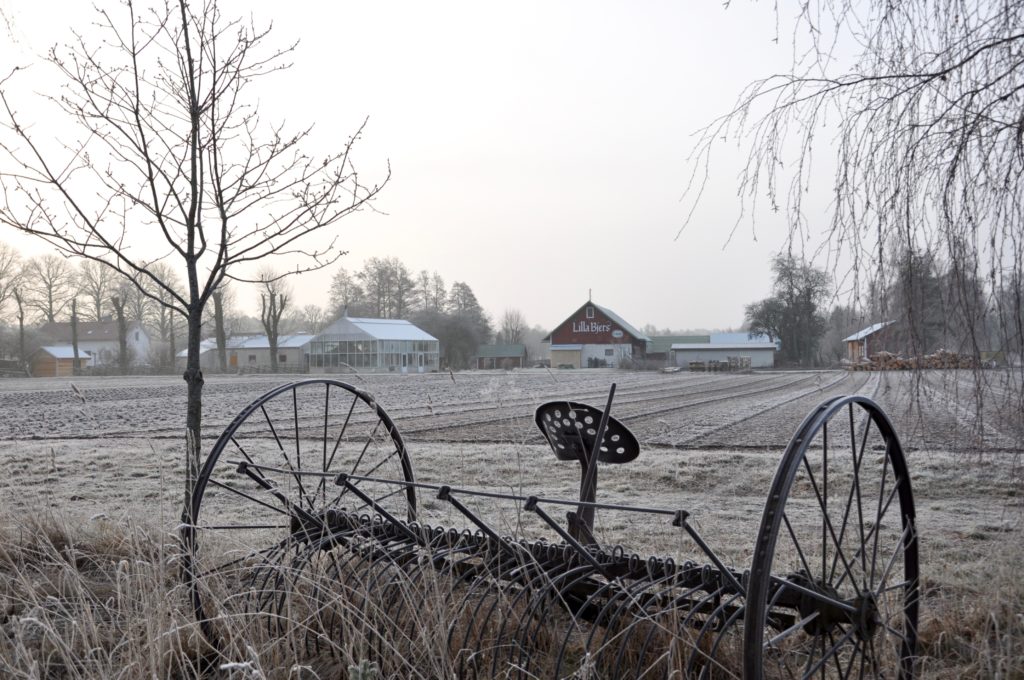 Restaurant
Christmas at Lilla Bjers
27th November until 20th December we will offer a Christmas meny in true sustainable spirit.
Read more about Lilla Bjers Christmas here
Opening hours 2020
During October we are on a small break and the restaurant will be temporarily closed.
30th of October to 20th of December
Lunch 11:30-14:00
Friday-Sunday
Dinner from 17:00
Friday-Saturday
The food
Because of the current circumstance we only have direct table service, even for the lunches which means that it is preferable if you book your table in advance. Dropping by is of course also welcome, but tables may be limited. Our restaurant is lofty and we of course follow the guidelines for good hygiene.
Menu
All our menus vary depending on today's harvest and the ideas of our chefs, therefore they have changed somewhat when your party arrives to our farm.
Lunch
Pumpkin soup, flower sprouts, apple, jerusalem artichoke. Small 105 SEK/ Large 145 SEK
Beef stew, potato puré, smoked pork belly, kale, onion. 205 SEK
Risotto on emmer wheat, capsicum, corn, black kale. 205 SEK
If you have the time we really recommend our three-course lunch, which is priced at 350 SEK
Soup
Your choice of main course
The dessert of the day
Dinner
We serve a set tasting menu which is composed from the crops that we can harvest at the moment. Because of this, the menu is frequently under change, but the concept stands fast - a well made and tasty craftsmanship.
Pumpkin: sorrel, almond, snail
Celeriac: grilled apple, fennel flower, leek
Creamy black kale: carrot, Pommes Anna, roe deer
Last berries of the season: phsysalis, emmerdigestive
Menu 690 kr
Wine pairing 510 kr
Non alcoholic 380 kr
Do you have any allergies or food preferences? Please let us know in advance, so we can adapt the menu for you.
The restaurant
Welcome to the farm restaurant – a flourishing oasis where your meal becomes an experience.
Lilla Bjers is KRAV-certified, which one of the highest organic certifications in Sweden. The farm, store an restaurant is family owned and driven. Here we prepare the meals with our own seasonal harvest. Focus is on well made food where the crops plays the leading part. We also work with local KRAV-certified meats. Since we do not feel the fish from the Baltic sea matches our visions we have decided not to serve shellfish or fish.
The hole farm is KRAV-certified, meaning the drinks and the wine we serve are also organic.
The farm is a collaboration between kitchen, farm and waiting staff. Our goal is that a meal at our restaurant will be more than a plate to still your hunger. We want to celebrate the genuine, personal craft that is our food - all the "short" way from soil to table.


hepp